The Launching event of the Global Programme on Countering Terrorist Threats against Vulnerable Targets
On January 19th, 2021 The United Nations Office on Combating Terrorism (UNOCT) organized a presentation on the "UN Global Program to Combat Terrorist Threats to Vulnerable Targets". As part of the presentation, a thematic discussion on the protection of religious buildings from terrorist activities was held, in which the Permanent Representative of Bosnia and Herzegovina to the UN, Ambassador Sven Alkalaj, participated, emphasizing the need to strengthen cooperation between all countries and law enforcement agencies. in the prevention, control of movement, and the fight against all forms of extremism and terrorism, with special emphasis on the protection of religious buildings. In that context, he mentioned the specifics of Bosnia and Herzegovina, as a multiethnic and multi-confessional country. Ambassador Alkalaj pointed out that the BiH authorities, in cooperation with the US authorities, repatriated a number of BiH citizens from the battlefield in Syria, and stressed that, in the past period, 22 cases with 40 indictees for participation in terrorism-related activities were completed. Finally, Ambassador Alkalaj emphasized BiH's readiness to implement the United Nations declarations and called on other countries to consistently implement their commitments.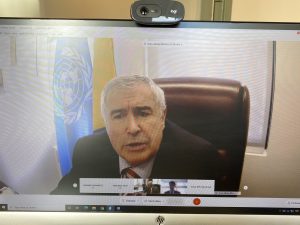 Ambassador Sven Alkalaj's statement
Talking points to the Launching event of the Global Programme on Countering Terrorist Threats against Vulnerable Targets
Thematic Exchange on the Protection of Religious Sites
Your Excellency Mr. Voronkov, distinguished Excellencies and colleagues,
At the outset, please let me congratulate the United Nations Office of Counter Terrorism for the launching the United Nations Global Programme on Countering Terrorist Threats against Vulnerable Targets and for organizing this timely meeting.
Bosnia and Herzegovina expresses its full solidarity with governments and families of the victims of recent terrorist attacks throughout the world.
Bearing in mind evolving nature of the threats from terrorism and violent extremism, we must continue to work together on prioritizing and improving measures to address the threats from by those heinous crimes.
Bosnia and Herzegovina considers that, in combating terrorism and violent extremism, special attention must be given, among others, to:
Issues of misuse of the internet and social media for terrorist purposes;
Addressing the increase in home-grown radicalization leading to the terrorism;
Improving standards and legislation with regard to combatting money-laundering and financing of terrorism, especially connection between organized crime and terrorism;
Issues related to bringing foreign terrorist fighters to justice, as well as preventing their movement through cooperation on better border monitoring;
Contemplating and addressing terrorist threats to aviation, critical infrastructure and public spaces and
Special emphases must be given to the protection of religious sites, issue which is very important for Bosnia and Herzegovina as a multinational, multicultural and multi-confessional country.
Bosnia and Herzegovina considers that, in combating threats from the terrorism, special attention has to be on the cooperation at the regional and sub-regional level. In that connection, Western Balkan countries has already intensified their efforts on improving border monitoring and addressing common threats. We are grateful to the European Union and International Organization for Migration for their assistance and financial support in that regard.
It is of utmost importance that UN member states firmly uphold Security Council sanction regimes against terrorist groups, individuals, entities and undertakings. In that regard, we must ensure full implementation of relevant Security Council resolutions in accordance with the international law and human rights instruments.
Agencies of Bosnia and Herzegovina regularly collect information and data on persons, citizens of Bosnia and Herzegovina, who have participated in the Syrian war as members of ISIL. In the previous period, judicial institutions of Bosnia and Herzegovina have processed of 22 cases related to the terrorism and charged 40 people.
We would like to underline that the Ministry of Security of Bosnia and Herzegovina in cooperation with other institutions in the country, finalizing the new, revised Strategy for prevention and combatting terrorism. A special emphasis in the Strategy is going to be a better coordination among law enforcement agencies, as well as social work institutions to address issues related to the repatriation, de-radicalization and resocialization of returnees and their family members.
Bosnia and Herzegovina reaffirms its commitment to the United Nations Declaration on the Elimination of All Forms of Intolerance and of Discrimination Based on Religion and Belief, as well as the Declaration on the Rights of persons Belonging to National or Ethnic, Religious and Linguistic Minorities and calls upon all UN member states that their provisions to be fully upheld and implemented.
I thank you, Mr. Voronkov, you can count of our full support in the implementation of this important programme.