US Army War College Delegation Visits Bosnia and Herzegovina's UN Mission
New York, November 3, 2023 — The Permanent Mission of Bosnia and Herzegovina to the United Nations in New York hosted a delegation from the United States Army War College (US Army War College-AWC). Led by Professor Smith Willard, the visit was a diplomatic initiative aimed at fostering dialogue and understanding between the two entities.
US Army War College – AWC is an educational institution of the U.S. military with a century-long tradition, designed for postgraduate studies of officers and civilians aspiring to leadership positions and responsibilities in the military and society. Among the attendees of this school have been renowned generals of the U.S. Army (from General George S. Patton and Norman Schwarzkopf to the current U.S. Secretary of Defense, Lloyd Austin), as well as global military and civilian leaders (from the longtime President of Nigeria, Muhammadu Buhari, to the current President of Egypt, Abdel Fattah El-Sisi).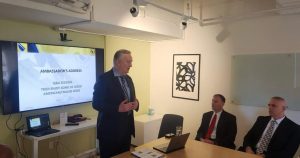 The US Army War College delegation was warmly welcomed by His Excellency Zlatko Lagumdžija, the Ambassador-Permanent Representative of Bosnia and Herzegovina to the UN. A lively interchange of perspectives unfolded when Ambassador dr Lagumdžija seized the opportunity to inform the delegation about the present situation in Bosnia and Herzegovina. Of particular concern were the serious threats to peace, security, and the very foundations of the Dayton Peace Agreement, a matter deemed the most pressing since its signing. Ambassador dr Lagumdžija underscored the urgency for decisive action, calling for the upholding of international law and the active involvement of the international community in safeguarding the institutional framework of Bosnia and Herzegovina.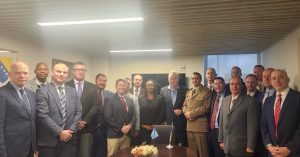 In addition to addressing contemporary challenges, Ambassador dr Lagumdžija provided the US Army War College delegation with a historical overview of the Balkans and Bosnia and Herzegovina, emphasizing the centuries-long coexistence in the region. Importantly, he drew connections between the current situation in Bosnia and Herzegovina and ongoing military-political events worldwide. Expanding on these insights, Ambassador dr Lagumdžija introduced the delegation to the role and ongoing activities of the Permanent Mission, shedding light on its engagements with other member states in the UN.
The military advisor at the Permanent Mission, Brigadier Bruno Lukić, presented a detailed overview of the military advisor's role within the mission, outlining responsibilities within both formal and informal UN bodies. The presentation placed a specific emphasis on the Armed Forces of Bosnia and Herzegovina's (AF BiH) involvement in peace support operations, particularly in UN missions.
In conclusion, this diplomatic exchange not only facilitated a meaningful dialogue between the US Army War College delegation and the Permanent Mission but also provided a platform for understanding and collaboration on critical international issues.