United Nations International Holocaust Remembrance
United Nations International Holocaust Remembrance
76th Anniversary
Liberation of Auschwitz
On 25.01.2021. Park East Synagogue in New York and the United Nations International Holocaust Remembrance organized the traditional "United Nations Holocaust Commemoration" on the occasion of the 76th anniversary of the liberation of Auschwitz.
The virtual commemoration was addressed by the Secretary-General of the United Nations, Mr. Antonio Guterees, and Rabbi Arthur Schneier, who said during his visit to Srebrenica: "You cannot change history but you can improve upon history in terms of the future" – Rabbi Arthur Schneier
The commemoration was also attended by the Permanent Representative of Bosnia and Herzegovina to the UN, Ambassador Sven Alkalaj, who pointed out in his message: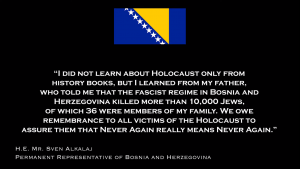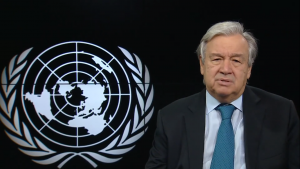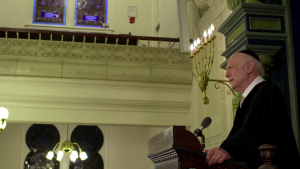 " At these difficult times, when we are confronting global pandemic, it is of the outmost importance to keep the flame of Remembrance of the victims of the Holocaust.
I did not learn about Holocaust only from history books, but i learned from my father, who told me that the fascist regime in Bosnia and Herzegovina killed more than 10,000 Jews, of which 36 members of my family.
We owe Remembrance to all victims of the Holocaust to assure them that Never Again really means Never Again."