Situation in Bosnia and Herzegovina caused by floods is critical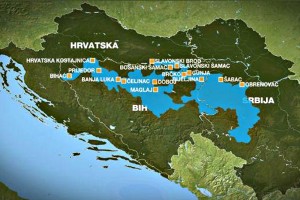 The situation in Bosnia and Herzegovina caused by the floods is still critical, although water levels of rivers are slowly declining.
Municipalities of Maglaj and Doboj are completely under water, and road communication to these cities has been cut. The critical situation is also in the municipalities of Doboj South, Šekovići , Zvornik , Bratunac , Srebrenica , Kotor Varos , Petrovo , Mrkonjić Grad , Sapna , Gračanica , Gradačac , Kakanj , Olovo , Breza , Visoko, Zenica , Kladanj , Tuzla , Banovići , Lukavac …
Floods triggered a large number of landslides and blocked a significant number of main and regional roads. Many bridges have collapsed, and some parts of towns and villages are without electricity and drinking water. Digging of roads to set up road communication to the villages cut off is in course.
All available forces of rescue teams, police, firemen, mountain rescue services, rafting clubs and local residents are on the ground and invest extraordinary efforts to evacuate the affected population.
Armed Forces of Bosnia and Herzegovina are engaged in the early morning hours on the territory of the municipality Šekovići , Maglaj and settlement Matuzići to evacuate the affected population .
Having sent a request for international assistance, the Ministry of Security of Bosnia and Herzegovina has achieved good cooperation with many countries and organizations. Help has been offered by Croatia, USA, Turkey and Slovenia, and numerous international organizations.
Also, the Operational Communication Center 112 is to coordinate the transfer of 112 rescue teams from Bosnia and Herzegovina and Croatia to the affected areas.